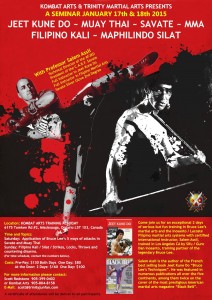 Come join us for an exceptional 3 days of serious but fun training in Bruce Lee's martial arts and the Inosanto / Lacoste Filipino martial arts systems with certified international instructor, Salem Assli, trained in Los Angeles CA by Sifu / Guro Dan Inosanto, training partner of the legendary Bruce Lee.
Salem Assli is the author of the French best selling book Jeet Kune Do "Bruce Lee's Techniques". He was featured in numerous publications all over the five continents, among them twice on the cover of the most prestigious American martial arts magazine "Black Belt".
Location:
Kombat Arts Training Academy 6175 Tomken Rd #2, Mississauga, Ontario L5T 1X3, Canada
Time and Topics:
Saturday: Application of Bruce Lee's 5 ways of attacks in Savate and Muay Thai
Sunday: Filipino Kali / Silat / Strikes, Locks, Throws and countering disarms.
Costs:
Pre-pay: $130 Both days One Day: $80
At the door: 2 days: $160 one Day: $100
For more information please contact:
Scott Redstone 905-399-0402
or Kombat Arts 905-804-8158
Email: [email protected]
A certificate of attendance will be delivered to all participants.