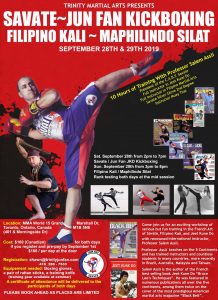 Professor Salem Assli — September 28 & 29th 2019
Presented by Trinity Martial Arts
Come join us for an exceptional 2 days of serious but fun training in Savate Boxe française, Bruce Lee's martial arts and the Inosanto / Lacoste Filipino martial arts systems with certified international instructor, Salem Assli, trained in Los Angeles CA by Sifu / Guro Dan Inosanto, training partner of the legendary Bruce Lee.
Salem Assli is the author of the French best selling book Jeet Kune Do "Bruce Lee's Techniques". He was featured in numerous publications all over the five continents, among them twice on the cover of the most prestigious American martial arts magazine "Black Belt".
Time and Topics:
Saturday: 2PM – 7PM
Savate Boxe-Francaise
Jun Fan Jeet Kune do
Sunday: 3PM – 8PM
Filipino Kali
Maphilindo Silat
Rank testing both days at mid-point
Contact Shawn Gliddon for details